Albany farm OK'd to grow genetically engineered salmon
Seth Slabaugh, Muncie Star PressPublished 4:13 p.m. ET March 8, 2019 | Updated 12:52 p.m. ET March 10, 2019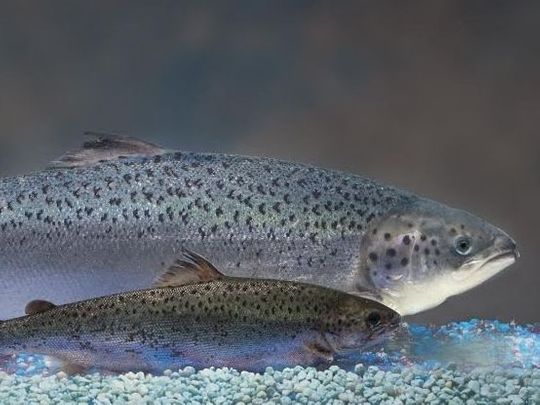 MUNCIE, Ind. — The U.S. Food and Drug Administration has lifted an import alert on eggs that will allow AquaBounty Technologies to start raising its genetically engineered AquAdvantage Salmon at a fish farm in Albany, the company announced Friday. 
The world's first genetically engineered (GE) food-use animal, AquAdvantage Salmon's "advantage" is it reaches market size (about 5 kilograms, or 11 pounds) almost twice as fast as non-engineered Atlantic salmon.
When The Star Press toured the fish farm on the west edge of Albany last May, everything was virtually ready to start producing the salmon, with the exception of the required fish eggs to be imported from the company's Prince Edward Island facility in Canada.
The GE Field has grown enormously, according to FDA, since the first GE animal, a rabbit, was produced in the 1980s. Other GE animals being developed include biopharm animals to produce substances like human insulin; hypoallergenic pets; and pigs containing healthy omega-3 fatty acids at levels comparable to fish.
IntraFish, a seafood industry news source, reported Friday, under the headline, "AquaBounty shares on explosive bull run," that the Massachusetts-based biotech company is worth $50 million more than it was just hours ago after the FDA approved the sale of genetically engineered salmon in the US, and the stock kept climbing on the NASDAQ.
AquaBounty purchased the defunct Bell Aquaculture trout, perch and coho salmon farm, including two dozen indoor tanks containing 70,000 gallons of water each, for more than $14 million in 2017. 
Bell had been hailed as a model of land-based, containment aquaculture, but faced a series of lawsuits in 2015 and 2016, including complaints for unpaid debts.
Sylvia Wulf, CEO of AquaBounty, issued a statement saying on Friday saying:
"We are delighted that FDA has lifted the import alert, which will allow AquaBounty to begin producing and marketing AquAdvantage Salmon in the United States. As FDA notes in this announcement, our salmon was approved by the agency over three years ago based upon a very comprehensive science-based review process, which established that our salmon was safe, nutritious, and environmentally sound and met all other regulatory requirements. We will immediately start the process to import AquAdvantage eggs from our hatchery in Canada to begin grow out at our Indiana facility."
The company said in a news release that approximately 350,000 tons of Atlantic salmon are consumed annually in the United States with more than 95 percent of it imported.
"FDA's actions will allow for production and sale to begin here in the U.S., bringing opportunity for investment in rural America, creating American jobs, while also reducing dependence on seafood imports," the company said.
AquaBounty could create up to 100 jobs and help revive the local economy, U.S. Sen. Todd Young, R-Ind., said Friday, adding that cultivating other sources of seafood will also provide consumers with healthier options, which helps improve the health of Indiana's population.
"This announcement is good news for Albany and Delaware County, where this emerging industry has the potential to create jobs and spark economic activity," Young was quoted in a news release as saying. "I have been vocal with the FDA and my Senate colleagues about this issue, and am pleased that the FDA has acted."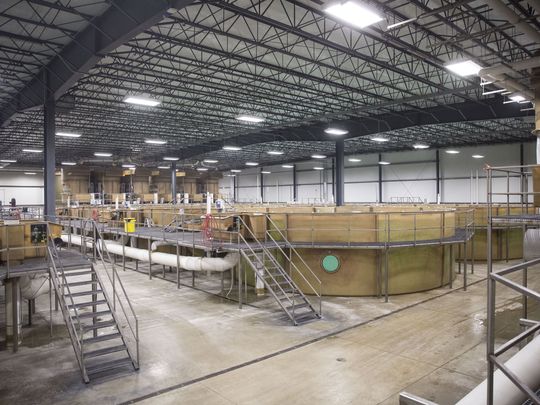 Large 68,684-gallon indoor tanks will house the salmon as they reach adulthood and continue to maximize their growth at the AquaBounty Technologies facility in Albany. AquaBounty bought the Albany facility, originally built to raise yellow perch, last year for $14.2 million. (Photo: Corey Ohlenkamp/Star Press)
FDA Commissioner Scott Gottlieb issued a statement reading in part:
"With the deactivation of the import alert, AquAdvantage Salmon eggs can now be imported to the company's contained grow-out facility in Indiana to be raised into salmon for food.
"As was determined during the FDA's 2015 review, this fish is safe to eat, the genetic construct added to the fish's genome is safe for the animal, and the manufacturer's claim that it reaches a growth marker important to the aquaculture industry more rapidly than its non-GE farm-raised Atlantic salmon counterpart is confirmed.
"Additionally, as part of its approval, the FDA also analyzed the potential environmental impact that an approval of the AquAdvantage Salmon application would have on the U.S. environment and published its final Environmental Assessment and Finding of No Significant Impact in November 2015.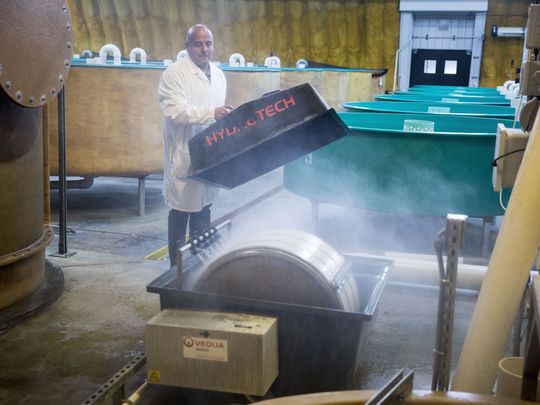 Facility manager Pablo Bernal shows some of the biofilter systems at the AquaBounty Technologies facility in Albany. AquaBounty bought the Albany facility, originally built to raise yellow perch, last year for $14.2 million. (Photo: Corey Ohlenkamp/Star Press)
"Based on the multiple forms of physical and biological environmental containment measures proposed by the company in its application, the FDA found that an approval of the application related to AquAdvantage Salmon would not cause a significant impact on the U.S. environment.
"Subsequently, the FDA found that multiple forms of containment proposed in the supplemental application to raise the salmon in the company's Indiana facility also would have no significant impact on the environment."
The statement went on to explain:
"Advancements in the dynamic field of biotechnology are bringing about the development of innovative, new food products. At the U.S. Food and Drug Administration, we're committed to helping food developers bring biotechnology innovations to market while at the same time providing consumers with confidence that foods available for purchase in the U.S. – whether developed using traditional breeding techniques or biotechnology – meet the FDA's high safety standards.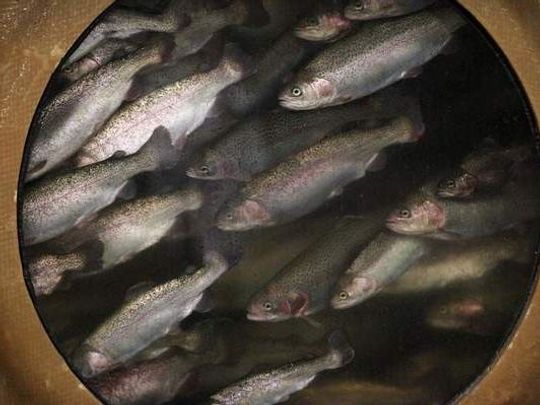 Bell Aquaculture fish swim past a porthole in a 70,000-gallon tank. (Photo: Star Press file photo)
"Biotechnology is a term used to describe certain methods, including genetic engineering (GE), that scientists use to introduce new, favorable traits or characteristics to an organism. Part of our work implementing the FDA's vital mission is focused on evaluating the safety of intentional genomic alterations (IGAs) in animals that will ultimately be sold for consumption to American consumers.
"We recently advanced a comprehensive framework for the efficient development of safe biotechnology products with our new Plant and Animal Biotechnology Innovation Action Plan. In recent years, we've taken important steps to help advance novel products, including our 2015 decision to approve an application related to AquAdvantage Salmon, a GE Atlantic salmon that contains the first approved IGA in an animal intended for food use.
"Today, we are taking another important step by deactivating a 2016 import alert that prevented GE salmon from entering the U.S. The FDA's approval of the application related to AquAdvantage Salmon followed a comprehensive analysis of the scientific evidence, which determined that the GE Atlantic salmon met the statutory requirements for safety and effectiveness under the Federal Food, Drug, and Cosmetic Act.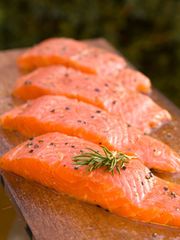 AquaAdvantage Salmon (Photo: AquaBounty Technologies)
"However, in 2016, Congress directed the FDA not to allow into commerce any food that contains GE salmon until it issued final labeling guidelines for informing consumers of the GE salmon content in the food. The FDA complied with this requirement by implementing an import alert in 2016 that prevented GE salmon from entering the U.S.
"With Congress' enactment of the National Bioengineered Food Disclosure Standard, the U.S. Department of Agriculture (USDA) was charged with implementing a mandatory standard for disclosing whether a food is "bioengineered" and FDA was divested of its authority over voluntary labeling to indicate the presence of GE content in human foods.
"The FDA no longer has the authority to issue labeling guidance on this topic; however, the FDA believes this Congressional mandate has been satisfied by the USDA's issuance of final regulations implementing that law in late 2018 because the law and regulations require that human food containing GE salmon bear labeling indicating that it is bioengineered. Therefore, the FDA is deactivating the import alert that prevented food from AquAdvantage Salmon, including salmon eggs used to grow the fish, from entering the U.S."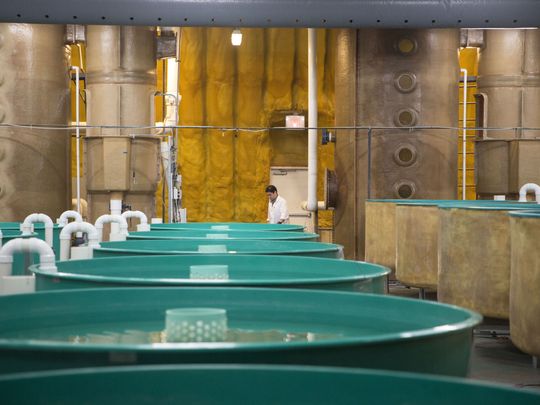 Large tanks will eventually house the nursery for AquAdvantage Salmon at the AquaBounty Technologies facility in Albany. Several different tanks in each stage of the growth cycle help raise the fish from egg to when they are processed. (Photo: Corey Ohlenkamp/Star Press)
Contact Seth Slabaugh at (765) 213-5834 or seths@muncie.gannett.com
Source: The Star Press