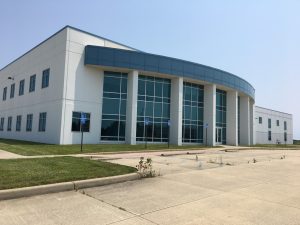 Longtime Delaware County firm Muncie Power Products growing, filling under-used building
DELAWARE COUNTY, Indiana – Muncie Power Products, founded in 1935, has acquired, through a purchase agreement executed on June 3, 2021, a former industrial building at Interstate 69 and Ind. 332, the company and the Delaware County commissioners announced.
Muncie Power Products, which makes power take-offs that transfer power to hydraulic equipment – widely used in industry – will consolidate some of its operations into the building.
The company will substantially expand the building at 2500 N. Priority Way, Yorktown, in the Park One/332 industrial park, adding 100,000 square feet to the existing 127,000 square-foot building and investing over $20 million in the real estate and equipment.
The move gives Muncie Power Products some much-needed room and gives the Delaware County commissioners a user for the building, which has been empty for several years.
"It's a next step for our future," said Ray Chambers, chairman, CEO and president of Muncie Power Products.
"It's great to find a use for this building," said Commissioner James King. "That a long-established company like Muncie Power Products is going to acquire and use the building, and even expand it, is what we've worked for."
Chambers said the company's products line was growing rapidly and the new facility "gives us the opportunity to consolidate operations."
"Muncie Power Products' plan to buy the building, expand it and consolidate its operations there is great for Delaware County," Commissioner Shannon Henry said. "Muncie Power Products has many opportunities to take their operations to other places. They are a part of our community and we wanted them to stay and grow here. We are thrilled to have had the opportunity to assist them with that."
Muncie Power Products' power take-offs are used to operate lifts in bucket trucks, arms on garbage trucks, the beds of dump trucks and blades on snowplows for the Indiana Department of Transportation.
Muncie Power Products has been since 1999 a part of Interpump Group, a multinational corporation based in Reggio Emilia, Italy. Interpump Group companies manufacture a wide range of hydraulic and power transmission components including valves, cylinders, hoses, the world's largest selection of power take-offs, reduction gears, and soon orbital motors and steering units thanks to the recently announced acquisition of White Drive Motors and Steering. It is also a recognized world leader in high-pressure plunger piston pumps through its Water-Jetting division.
Chambers said Interpump's interest, initiative and support has enabled the company to launch this growth.
"They're our parent company and we're pleased to be in partnership with them," Chambers said. "They want this to happen and that's where the credit goes."
The company now operates out of a building near Wysor Street and Pershing Drive. The oldest portion of the building is a 100-year-old warehouse. The building, which has been expanded over the years, is only 50,000 square feet in size and has low ceilings, said Rex Millspaugh, operations manager.
"When you go from a warehouse with 13-foot ceilings to a facility with 32-foot ceilings, there's a difference in equipment you can use," Millspaugh said. The new facility also has five bays and cranes that can lift up to 50 tons.
The company's corporate headquarters will remain in its building in downtown Muncie. It also has facilities in Fairmount and Tulsa, Oklahoma. Millspaugh said about 140 employees work in Muncie.
"Muncie Power Products has been a big part of our community for a century," Commissioner Sherry Riggin said. "Their choosing to expand in Delaware County continues their long tradition of giving back to their community."
Brad Bookout, Delaware County director of economic and municipal affairs, said, "The leadership team at Muncie Power Products is one of the most professional groups of people I have ever interacted with. Having the opportunity to assist them has been a great experience."
Muncie Power Products began in 1935 as Muncie Parts Manufacturing Company. The company grew dramatically under the leadership of Hamer Shafer, who began as an employee and in 1952 entered into a partnership with the daughter of Lou Conne, who had founded Muncie Parts Manufacturing Company. By 1960, the company had incorporated and grew through the decades that followed.
Besides its Muncie headquarters and operations, Muncie Power Products has facilities in seven states, including a manufacturing facility in Tulsa, assembly/distribution facilities in Muncie and distribution centers in Georgia, Ohio, Texas, Pennsylvania and California.
About Delaware County Economic Development
Dynamic and forward-thinking economic development is the specialty of Delaware County, Indiana. In 2015 the Delaware County Commissioners privatized the County's economic development activities. Since that time, the County has developed its own business retention and expansion programs that are in constant contact with the multitude of industry within the County.  In addition, efforts to identify and attract various suitable industry throughout the world are undertaken on an annual basis.  For more information, contact Brad Bookout at bbookout@augustaconsultingllc.com.