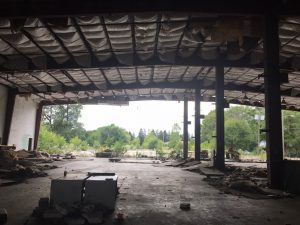 Delaware County company to revamp old industrial site
DELAWARE COUNTY, Ind. – A longtime local company will purchase an old Muncie industrial building and give it a total makeover into a modern warehouse.
North Central Industries, an importer of fireworks with headquarters in Delaware County for decades, will turn the former City Machine Tool & Die building into an updated facility, Delaware County officials said.
The project means a new owner and a complete rebuild and reuse – as a warehouse – of the long-empty City Machine industrial property at 1302 E. Washington St. City Machine was established in 1935 and closed in 2007.
North Central Industries will strip the old City Machine "down to I-beams and rebuild into a modern warehouse facility," according to North Central's proposal to redevelop the property.
North Central plans to make up to $1 million in improvements to the facility "immediately," company president Richard Shields said. Ten full-time and 20 part-time jobs will be created by the project, and the average hourly wage will be $18 to $25, plus benefits.
The company plans a minimum $2.5 million in capital investment in the property. North Central Industries told the regional planning board they intended to use "100 percent local contractors" on the project.
The East Central Indiana Regional Planning District on Aug. 31 approved North Central Industries as the winning respondent for the property at 1302 E. Washington St.
For years, City Machine was a fixture on the East side of Muncie, but like many factories in the community, the recession brought about hard times to the company. In 2015, years after City Machine had gone out of business in 2007, Brad Bookout, now director of municipal and economic affairs, cited the City Machine property as one of 68 brownfields properties that needed rehabilitation.
Bookout and the Delaware County commissioners are pleased to be able to announce the rehabilitation of the site.
Commissioner James King said, "As president of the Delaware County commissioners, I can say we've seen incredible value working with the East Central Indiana Regional Planning District. Director Bill Walters and his organization have had remarkable success getting many of the county's longtime tax-delinquent eyesores repurposed to viable end users. We are continuing with the work and excited to see another site back on the tax rolls and redeveloped by a great local company like North Central Industries."
"Having this level of investment in this property is an incredible win for our community," Commissioner Shannon Henry said. "This site has cycled in and out of the county tax sale for over 10 years. I'm really happy that we now have a committed long-term user that will make use of the property."
"The strategic identification of commercial and industrial properties that continue to revolve in and out of the county tax sale is an important undertaking for our community," Bookout said. "Once we identify a problem property, our goal is to find an appropriate end user who has the financial wherewithal to not only redevelop the property, but also to redevelop and maintain it in a way that in it being an asset. We're excited to see Richard Shields and North Central Industries commitment to making such a significant investment in this property."
Environmental concerns at the property are being addressed by the Elam Group, which has submitted a work plan to IDEM and has received preliminary approval to proceed.
North Central Industries previously rehabbed two local warehouses, also along Washington Street. North Central's new facility will be just two blocks from those sites.
The company plans to have its new building complete and operating as a warehouse by 2023, contingent on the timetable of the contractor chosen for the project.
North Central Industries has been in business in Delaware County for 66 years and has increased its business by $9 million in the past two years. Its Boomers Fireworks store on South Walnut Street is a popular destination throughout the fireworks season.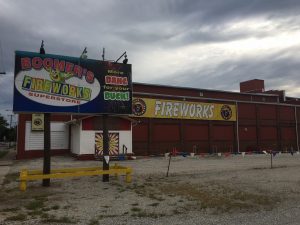 About Delaware County Economic Development
Dynamic and forward-thinking economic development is the specialty of Delaware County, Indiana. In 2015 the Delaware County Commissioners privatized the County's economic development activities. Since that time, the County has developed its own business retention and expansion programs that are in constant contact with the multitude of industry within the County.  In addition, efforts to identify and attract various suitable industry throughout the world are undertaken on an annual basis.  For more information, contact Brad Bookout at bbookout@augustaconsultingllc.com.